I AM THE OUTREACH
Remember our motto: I Am The Outreach! You are the outreach, no just of our church, but of the Lord, Jesus Christ! Just because we're not meeting together in a large group doesn't mean that the mission of the Church doesn't carry on; it only gets more important! This is a perfect time to act on our fourth mission point: Demonstrate Love.
Below are some ways we thought of that you can continue to BE the Church through all this
---
CLOTH FACE MASKS
*Updated Friday, APril 10*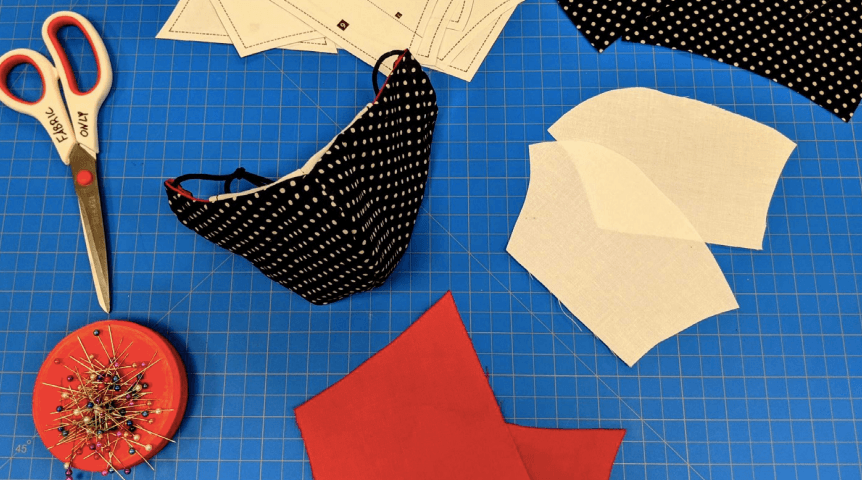 Spencer Hospital is in need of cloth face masks. The pattern below is one that is worn close to the face without an N95 under them.
Donations can be dropped off at the Emergency entrance of Spencer Hospital.
---
CHECK IN WITH EACH OTHER
Be sure to reach out to your church family to see how they're doing through all of this, especially those that are older in years.
Check to see if they need anything (food, toiletries, medicine, toilet paper, etc).
Check to see if you can run any errands for them.
Check to see if they need any prayer or just a friendly conversation.
Just ask how you can be a blessing to them.
For our elderly church family, write notes or letters and have your kids color pictures and mail them.
Let's get creative in the ways we can bless each other!
---
LOVE YOUR NEIGHBOR FLYERS
We also need to make sure we're mindful of our neighbors, especially those we know are particularly susceptible to illness (the elderly or the immunocompromised), and let them know we're here and we care about them.
Click the button below to download a flyer that you can print out at home. Fill it out and drop it off at your neighbors' homes. You can also pick copies of it up at the church.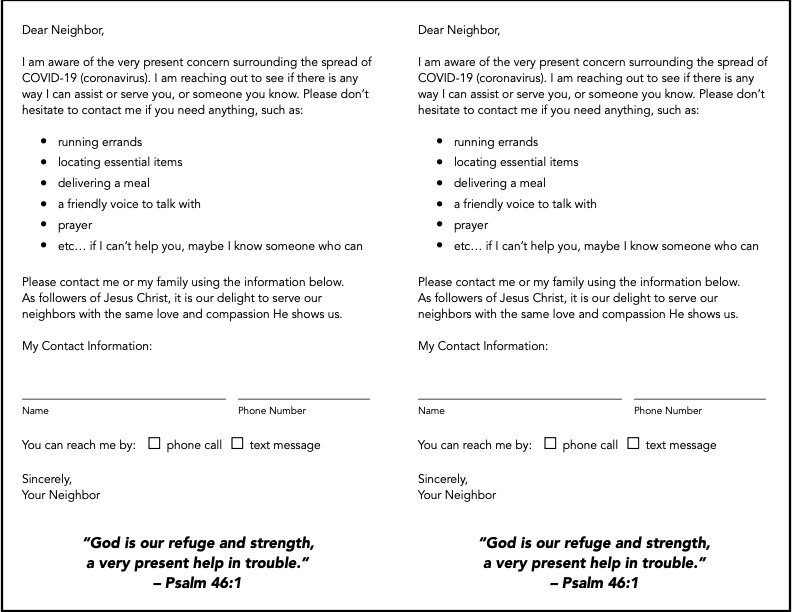 ---
SOCIAL MEDIA
Use your social media outlets to promote faith and hope, not fear and dread. Our unsaved friends and family are looking at how we are responding to all this as alleged "people of faith". Do we REALLY believe this stuff we say we do?
Don't fall into fear. And if you're fearful, take it to God or another brother or sister in Christ rather than to Facebook. I'm not saying we should lie or try to look like we're something we're not. Rather, know where you're own hope comes from, and feed your faith, not your fear.
---
SIDEWALK CHALK ENCOURAGEMENTS

Has anyone else noticed... so many people are outside going for walks!
Probably for two reasons...
it's starting to get nice out, and
let's be real, there's not much to do while we're all being socially distant. 🤷
HOW CAN WE LEVERAGE THIS TO BE AN ENCOURAGEMENT TO OUR COMMUNITY?
Grab some sidewalk chalk and head out to your front sidewalk and write out something encouraging! It could be a phrase, a scripture, a picture, anything that will lift someone up and put a smile on their face!
We'll even give you some suggested scriptures...
Deuteronomy 31:6
Psalms 23:4
Psalms 27:1
Psalms 29:11
Psalms 34:4
Psalms 46:1
Isaiah 12:2
Isaiah 41:10
John 16:33
II Timothy 1:7
1 Peter 5:6-7
... and some phrases to get your creative juices flowing...
We're all in this together!
You got this!
This too will pass!
We'll get through this together!
Keep the faith!
Never give up!
You rock!
Don't worry, be happy!
Get up every morning and tell yourself, "I can do this!"
---
SUPPORT LOCAL BUSINESSES
Make sure to remember that we have friends and neighbors who own small businesses that are more than likely feeling the effects of everything that's going on. Let's be there to support them through this!
Order carry-out or delivery, buy gift cards, whatever you're able to do to help.
---
BE A SOURCE OF ENCOURAGEMENT
There are so many people on the front lines of this global crisis, lets be an encouragement to them!
Know a doctor or a nurse? Send them an encouraging note thanking them for keeping us healthy.
Know someone who works in the grocery store? Let them know how much you appreciate them doing their best to keep the shelves stocked.
Know a law enforcement officer? Express your gratitude for their work in keeping us safe.
Know someone who is stricken by fear from all the craziness? Let them know you're thinking of them, you're praying for them (then actually do it), and ask if there's any way you can help.
etc... these are just starter ideas. Just shine your light!
---
JUST A FEW IDEAS
Those are just a few ideas one how we can continue to BE the Church while we're maintaining social distance. But get creative! Come up with your own stuff and if you have a great idea, email us and let us know.
Now check out the different ways we can continue to DO Church below.